I wanted to make your visit to Pooh's HideOut a little more interesting. So I came up with and found a few games for you to play. Some you play as you look at all my pages!

FIND THE HIDDEN LINK- Somewhere on my site there's a secret link on one of the pictures. When you click on it, it will take you to a secret place and there you will find an award to put on your page!
*HINT* It's NOT on my pictures page, because it would take you forever to click on each picture, since they are already linked to the larger image.

UNSCRAMBLE THE WORDS- Unscramble the following words. Each word is known to all Pooh and friends fans. The first letter of each word AFTER they are unscrambled make a word. (this new word WONT have to be unscrambled) Type in the missing html, to pick up your award!
*FOR EXAMPLE* If the first letters make the word "winnie" you then type this:
http://www.geocities.com/Heartland/Park/1536/winnie.html
Notice all the letters will be small.
THE WORDS TO UNSCRAMBLE:
esbe
hhobreot *HINT* This is two words.
griget
feaflphmu
eryeoe
yrmlbu

FIND EEYORE'S TAIL -Somewhere on one of my pages is Eeyores tail. Look for a picture of just a tail, click on it and grab your award! Look everywhere. It could be on any page, anywhere on the page.

FIND THE DIFFERENCE -Look at the first picture, then look at the second picture. See if you can find the difference in the two... Click on the second picture to see the answers.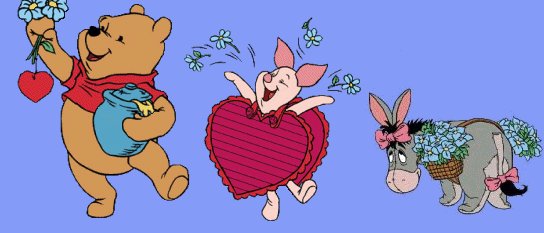 Where to next?
| Home | Games | Pictures | ABC's | Sounds | Coloring Pictures | Stories |
| Lyrics | 100 Acre Woods Map | Bio of A.A. Milne | Wallpapers | Background Sets |
| Print These | Snowglobes | Adopted Pets | Awards | Win My Award | Banner Exchange |
| Links | Webrings | Guestbook | E-Mail Me |